Roger Levinson, Lead Trumpet
& Founding Partner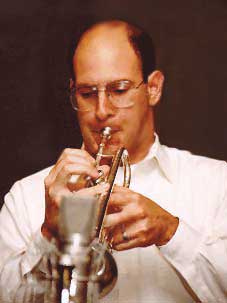 Originally from Sacramento, California, home of the Sacramento Traditional Jazz Festival, Roger started musical studies by learning to play piano at age 8, trumpet at age 10, and trombone at age 12! In the eighth grade, Roger decided he preferred trumpet, and has been playing it ever since. In high school, he played lead trumpet in the All City Jazz Band and also attended the Stan Kenton Jazz Clinic at California State University, Sacramento, for two years. At CSU Sacramento, he worked with arranger/composer Mark Taylor and with Rich Bice, leader of the Full Faith & Credit big band. Roger later studied with Rich Bice in Silicon Valley.
After high school, Roger attended UC San Diego as a pre-med student and played in their Jazz Band directed by the great Jimmy Cheatam. A year later he returned to Northern California and attended UC Davis, where he graduated with a B.S. in Electrical Engineering (BSEE) in 1986 and an MSEE in 1988. His electronics training was focused on analog and mixed signal integrated circuit design. While at UC Davis, he was the band manager of the Student Organization Jazz Band and solo trumpet chair of Jazz Musicians at UC Davis from 1984 to 1988, working under Fred "Bud" Lange.
Since moving to Silicon Valley, Roger has performed with many local groups and guest artists including Foothill College, De Anza Daddios, West Valley College (backing guest artists such as Dave Weckl, Wayne Bergeron, and Bobby Shew), the Black Tie Jazz Orchestra, the Redwood Symphony, the Peninsula Pops, Silicon Vibe, Silicon Valley Houserockers, Full Spectrum Jazz, and others.
He is currently a Vice President of Engineering for Intersil Corporation in Milpitas.
"A bit of advice, if you want trumpet playing to be easier, check out Bobby Shew."

You can send email to: Roger Levinson